By Dr. Krista Sherman, Senior Scientist at PIMS
The Perry Institute for Marine Science (PIMS) has conducted Atlantic and Gulf Rapid Reef Assessment (AGRRA) training workshops since 2011, to help build capacity for coral reef monitoring within The Bahamas. PIMS hosted its first virtual AGRRA training workshop in June 2020 to continue with this initiative. The virtual workshop was led by AGRRA Trainers – Dr. Krista Sherman (PIMS Senior Scientist), Dr. Craig Dahlgren (PIMS Executive Director), and Candice Brittain (Cape Eleuthera Institute). The course covered reef ecology, species identification, AGRRA protocols, survey techniques and data entry.
PIMS has collected data on the status of Bahamian reefs using AGRRA protocols for the past 12 years. AGRRA was developed as a standardized, comprehensive regional tool to rapidly assess the condition of hermatypic or reef-building corals and their associated communities. AGRRA surveys consist of assessing corals, ecologically and economically valuable fish species and benthic communities.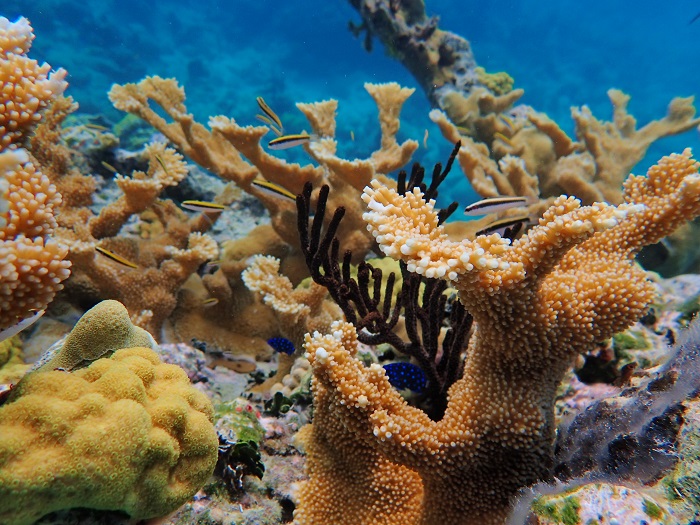 Due to COVID-19 travel restrictions, only coral trainees were able to complete the field component of the course, which consisted of coral species identification verification, demonstrations of AGRRA methods along with practice and actual surveys. During July 28-30, 2020, Dr. Sherman led the field training and coral surveys for participants at various reefs located around the southwest of New Providence. Coral trainees included Hayley-Jo Carr (PIMS), Shelley Cant-Woodside (Bahamas National Trust [BNT]), Rachel Miller (Windsor School) and Alex Frans (Stuart Cove's).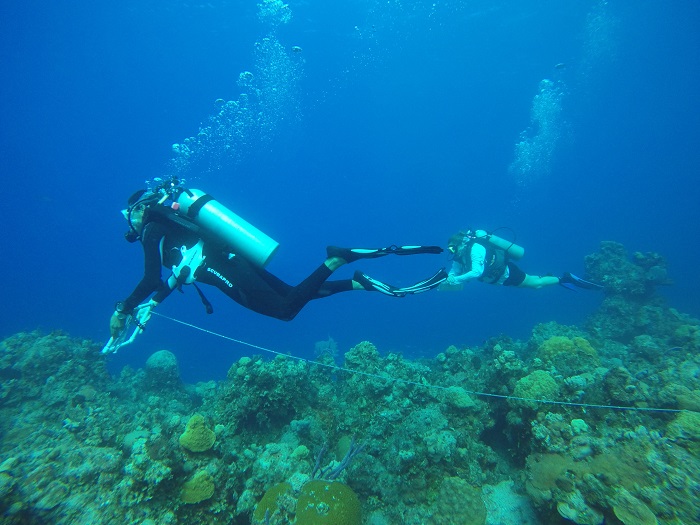 AGRRA coral surveyors are responsible for completing belt transect surveys to record the abundance, size, and condition of coral species. Assessments of coral condition include visual estimates of tissue loss due to either disease, bleaching, predation or competition with other species.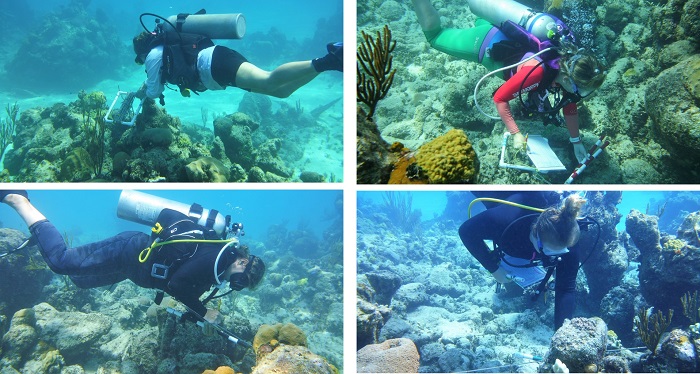 The team completed a total of 10 training and research dives, collecting coral data from long-term AGRRA monitoring sites and reefs where coral research and restoration projects are underway, e.g. Bond Reef (shown below).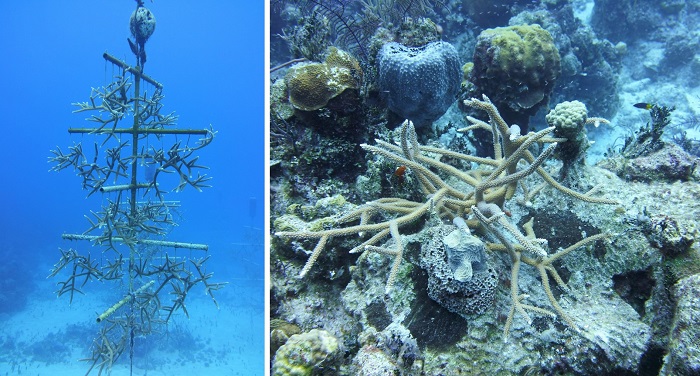 Participants completed assessments, in situ training, and exams to earn their basic AGRRA coral surveyor certification. The new skills they acquired will also be beneficial for their work.
"Successfully completing this course was extremely rewarding. As a dive instructor being able to go on a dive and identify every coral in my path has been so much fun, I cannot wait to share my new knowledge with my students! I have always enjoyed my dives the most when I can dive with a purpose — whether it's to train students, maintain a coral nursery, or collect marine debris. I can now add AGRRA coral surveys to my purposeful diving and look forward to assisting PIMS with gathering their AGRRA data".

-Alex Frans (Stuart Cove's), 2020 AGRRA Course Participant
"The Coral AGRRA training was an incredible and unforgettable experience. After almost a decade teaching marine science, I was so excited to have the opportunity to be back in the field and contributing to marine research and conservation. I'll be honest, on day one I thought I'd bitten off more that I could chew!! But with Krista's expertise and endless patience, what seemed like an insurmountable task in the beginning, became one of the most rewarding training sessions I have ever been part of. I now look at our Bahamian coral reefs in completely different way and I am ever more aware of the negative impacts and threats reefs are facing. I look forward to contributing to future AGGRA surveys, and I cannot wait to share the knowledge and skills I have gained through PIMS with my Marine Biology students at Windsor School".

-Rachel Miller (Windsor School), 2020 AGRRA Course Participant
"In order to ensure healthy oceans in The Bahamas, we need to monitor them. This is especially important for understanding the effectiveness of marine protected areas and to manage a changing climate and emerging threats. This is challenging for an archipelagic nation like The Bahamas with limited resources. Within the scope of the Vibrant Oceans Project, BNT is really excited to be able to help support training for more coral reef monitoring in the country. Through this initiative, we aim to establish a biophysical monitoring program with a network of trained surveyors throughout our islands".

-Shelley Cant-Woodside (BNT), 2020 AGRRA Course Participant
At PIMS, we embrace opportunities to expand local capacity for research and monitoring.  We look forward to collaborating with course participants and partners on future AGRRA expeditions throughout The Bahamas.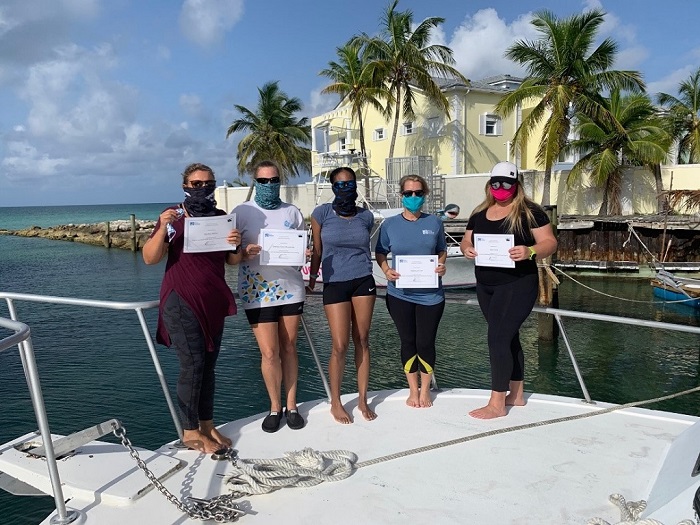 Funding for the 2020 AGRRA field training and surveys was provided by the Vibrant Oceans Initiative. Support for PIMS staff was provided by the Atlantis Blue Project Foundation and Disney Conservation Fund through grants awarded to the Perry Institute for Marine Science.
Information on the status of coral reefs in The Bahamas can be found in the 2020 Bahamas Coral Reef Report Card. For more details about our coral reef research and monitoring projects visit www.perryinstittue.org and follow us on social media: