Coral reefs are an integral ecosystem on Earth as they provide many ecosystem services like food security, coastal protection from storms, medicine and millions of jobs through fishing, tourism and recreation. Countries and communities, like The Bahamas, are also intimately tied to coral reefs through both their livelihoods and cultural traditions passed down through many generations. Though coral reefs only equate to <1% of the earth, they are home to 25% of all marine species and thus are arguably the most biodiverse ecosystems on the planet. However, coral reefs are feeling the impacts of climate change worldwide and are quickly fading to just remnants of their once splendor. The possible species and medicines that we have not yet discovered are in danger of disappearing before we even discover them and the populations of economically important fisheries and charismatic creatures we love are depleting. For the Caribbean, whose economies rely so heavily on coral reefs, we must protect these essential natural resources. This is a problem we need to solve rapidly, however, how does one even begin to understand what is happening on our coral reefs so that we can protect them? The AGRRA Program has the answer.
The Atlantic & Gulf Rapid Reef Assessment (AGRRA) Program is an international collaboration of scientists, managers, and supporters aimed at improving the regional condition of reefs in the Western Atlantic and Gulf of Mexico. Their main goal is to conduct scientifically sound, comparable regional surveys of the health of coral reefs using a standardized method to support the conservation of coral reef ecosystems. An AGRRA survey consists of data collection protocols on the three main communities on coral reefs: fish, reef-building corals and benthos (bottom dwelling) communities. Through combining the data collected from these protocols, once analysed by their team of expect scientists, the information gives rise to advancing our scientific understanding of coral reefs. Essentially, AGRRA is able to collect the voice of the coral reefs and then decipher what they are trying to tell us. For 20 years, the AGRRA Program has been conducting these surveys throughout the region and has trained many scientists, conservation officers, educators, dive instructors and non-governmental organisation staff in various Caribbean countries to conduct these surveys and has resulted in improved environmental efforts, policies and the establishment of several marine protected areas. However, this week the AGRRA team has visited The Bahamas for a very special occasion.
For the week May 6th – 11th, 2018, 14 persons from around the Caribbean, including The Bahamas, Dominican Republic, Turks and Caicos Islands, Jamaica, Guatemala and Antigua and Barbuda have been invited to participate in AGRRA Training of the Trainers workshop. Held at the Cape Eleuthera Institute in Eleuthera, this event is a rigorous week-long course where participants are immersed in learning how to teach their perfected AGRRA protocol (corals, fish, or benthos) to fellow citizens of their country. Lead by AGRRA's Scientific Coordinator Dr. Judith Lang, and Data Manager, Ken Marks as well as Healthy Reefs Initiative Guatemalan Coordinator, Ana Giró Petersen, this course includes intensive hands-on field work as well as classroom sessions filled with presentations and discussion. Through sharing the key to understanding coral reefs, the region can work together to create a network of conservation efforts to slow the decline of coral reef health.

Above: AGRRA Training of Trainers dynamic method of combining underwater training and classroom sessions.
Rita Sellares, Executive Director of Dominican Foundation of Marine Studies (FUNDEMAR) is a participant in this training event. "We use AGRRA to keep track of the evolution of the reefs of the Dominican Republic and from that to implement management policies and recommendations. Without AGRRA, we would not have the data to understand the situation that the coral reefs are in and if conservation and protection efforts implemented yield positive results."
The Perry Institute for Marine Science's Senior Research Associate, Nikita Shiel-Rolle, fully supports a regional approach when it comes to data collection on coral reefs. "It is important that this region works together as our environment and our coral reefs are not divided by geopolitical lines. The health of the reefs in Antigua and Barbuda impact the reefs in The Bahamas and the reefs in the Turks and Caicos islands impact the reefs in the Dominican Republic and so forth. Because our reefs our interconnected, its important that the approach to managing and studying the reefs are also interconnected and AGRRA gives a great method for us to standardize our protocols and the methodology that we use to help us better understand the health of the reefs so we may make proactive steps when it comes to restoration efforts"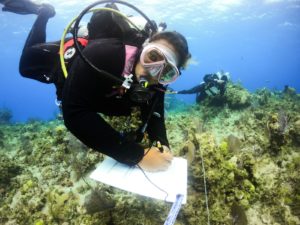 Above: Nikita Sheil-Rolle (Perry Institute for Marine Science) conducting the AGRRA benthic protocol.
At the end of the week, the trainers will return to their countries to train additional AGRRA members and prepare for the 2018 Field Season. During this season, many organisations will be collecting data from coral reefs for their own country's needs and the more members who are available to assist with the collection of this important information, the more sound the data will be.
Dr. Judith Lang, Scientific Coordinator at AGRRA is hopeful for the future of coral reef conservation in the region. "AGRRA hopes that this Training of Trainers workshop will expand reef conservation efforts in The Bahamas and Caribbean as this trainers fan out to educate more AGRRA surveyors with techniques to describe the condition of their coral reefs and associated fisheries resources. We are tremendously grateful for the support from our Bahamian and Caribbean partners."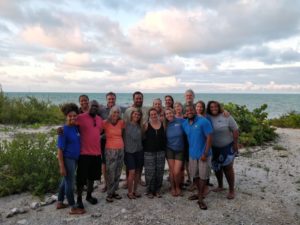 Back row, right to left: Monique Curtis (The National Environment and Planning Agency, Jamaica), Nathan Robinson (Cape Eleuthera Institute), Lindy Knowles (Bahamas National Trust), Anna Zuke (Cape Eleuthera Institute), Alizee Zimmerman (Turks and Caicos Reef Fund), Sandy Voegeli (San Salvador Living Jewels Foundation), Ken Marks (AGRRA), Candice Brittan (Cape Eleuthera Institute + The Island School), Nikita Shiel-Rolle (Perry Institute for Marine Science).
Front row, right to left: Alannah Vellacott (Perry Institute for Marine Science), Richard Archer (Department of Environment and Coastal Resources, Turks and Caicos Islands), Dr. Judith Lang (AGRRA), Ana Giró Petersen (Healthy Reefs Initiative), Rita Sellares (FUNDEMAR, Dominican Repiblic), Lily Hanes (Perry Institute for Marine Science), Ruleo Camacho (Department of the Environment, Antigua and Barbuda).
The Atlantis Blue Project Foundation is a proud supporter of AGRRA events in The Bahamas and thanks the following organisations for their partnership and support: Atlantic Gulf Rapid Reef Assessment Program, Ocean Research and Education Foundation, Perry Institute for Marine Science, Healthy Reefs Initiative, Bahamas National Trust, Disney Conservation Fund, FUN DE MAR, Cape Eleuthera Institute, The Island School, the Turks and Caicos Reef Fund and the governments of Antigua, Jamaica, Turks and Caicos.
For more information on AGRRA, visit their website at www.agrra.org.