At the Bahamas Reef Environment Educational Foundation (BREEF) Sir Nicholas Nuttall Coral Reef Sculpture Garden (CRSG), this survivor coral of Hurricane Matthew has grown to almost 5 times its original size in less than one year, from 155mm in May 2017 to 755mm in March 2018!

With the help of Bahamas Environmental Steward Scholars (BESS), volunteer divers and BREEF staff we have doubled the number of fragments in our coral nursery at the sculpture garden from 50 to 100 fragments!
In January, 2018 we filled our new coral propagation unit with fragments from the Bond Nursery. Thanks for help BESS interns Alexis and Kenaro, volunteer Bonnie and boat support form Stuart Cove Dive Bahamas.

We now have 4 new sample fragments for monitoring:

BREEF BESS Intern Jason, along with volunteer Justin, recently obtained their PADI Reef Rescue specialty through the Reef Rescue Network (RRN) and have been helping with coral monitoring, cleaning and outplanting to the natural reef at many locations including the BREEF sculpture garden.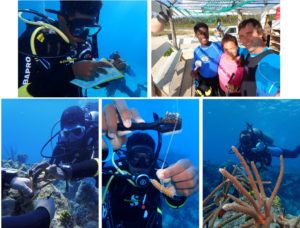 Here are some healthy outplanted corals at the BREEF Coral Reef Sculpture Garden (located in the new Southwest New Providence Marine Managed Area) after 2 months, shown with polyps out and feeding:

BREEF has been happy to offer partner support to the Reef Rescue Network in their restoration efforts here in Nassau. BREEF is grateful to be able to help rebuild our local coral reefs around our Coral Reef Sculpture Garden with support from the Atlantis Blue Project Foundation!
For more information on BREEF, check out their website at www.breef.org.
Interested in learning more about coral nurseries and how you can help? Email the Reef Rescue Network Training Director and Coordinator, Hayley-Jo Carr at hayley.carr@perryinstitute.org.