Nothing short of an ocean pandemic, Stony Coral Tissue Loss Disease (SCTLD) has ravaged Bahamian coral reefs since 2019. So far, it has spread to more than six Bahamian islands and killed >100 miles of the country's reefs.
In March 2022, the Perry institute for Marine Science was received a temporary research permit from the Government of The Bahamas to get in the water and administer life-saving treatments to this nation's coral reefs – the lifeblood of its blue economy.
The Bahamas stands to lose its chief ecological reef fisheries and tourism generating asset (valued at up to $135 M per km2 of reef) within five years if we don't act fast.
SCTLD was first discovered off the coast of Miami in 2014 and has spread to >20 Caribbean countries, making it a pandemic. In The Bahamas, SCTLD was first detected off Freeport in December of 2019. It is a highly contagious and fatal coral disease and researchers attribute the initial arrival of SCTLD to commercial shipping vessels that take on large amounts of ballast water during travel, and then release this water upon arrival. This water can quickly spread invasive plants, animals, and diseases like SCTLD  from one part of the ocean to another.
After it arrived in Grand Bahama, SCTLD likely spread to other Bahamian islands via local currents and smaller boat travel.
Local extinctions are predicted. The Perry Institute's preliminary surveys off Grand Bahama show alarming mortality rates of 80-90% for several coral species (including Meandrina meandrites, Dichocoenia stokesi, Eusmilia fastigiata) on shallow-water reefs. Research suggests that the rare pillar coral (Dendrogrya cylindus) is likely to become extinct across the Caribbean within the coming years. 
To date, SCTLD has been confirmed around six islands in The Bahamas: Grand Bahama (Dec 2019), New Providence (April 2020), Eleuthera (December 2020), San Salvador (March 2021), Long Island (March 2021) and Berry Islands (June 2021). Sightings have been reported but unconfirmed off Andros, Abaco and Little Inagua. 
Nearly half of the Caribbean's reef-building coral species are susceptible. Of the approximately 45 species of stony corals in the Caribbean, more than 20 species can catch SCTLD. Some of the most susceptible species are brain, pillar, star and starlet corals. Highly susceptible species are the first to become infected and the fastest to die. 
Coral survival rate of SCTLD is extremely low. Once infected, small coral colonies can die within a week or two. Larger "dinosaur" corals that took hundreds of years to grow can die within a couple of weeks. Without intervention, the survival rate of SCTLD is extremely low. 
The exact cause of the disease is unknown. Researchers believe the disease is caused by a bacterium, virus, or a combination of the two and is transmitted through the water column or direct contact via divers, boats, fish, etc. 
Scientists have the means to save corals and slow the spread using an antibiotic paste and this crucial work is being conducted in Florida, USVI, Mexico, Belize, Cayman Islands, Honduras and other countries.
Urgent help is needed to stop the spread of SCTLD, and everyone has a hand. Scientists are asking the public to report sightings of SCTLD in The Bahamas to the Perry Institute at: https://www.perryinstitute.org/sctld. Sightings in the greater Caribbean can be reported to: https://www.agrra.org/coral-disease-outbreak/.
We must limit how the disease is transported by humans. Commercial ships must properly exchange ballast water to prevent spreading the disease between regions. Smaller boat drivers should also be careful not to carry any bilge water between reefs; bilge water must be disinfected with a natural detergent and released into open water. All gear, including fishing and scuba gear, should be sanitized by dunking it in a bucket of sodium percarbonate and sea water before moving to another location. Sodium percarbonate is commonly found in eco-friendly laundry detergent (like Earthbound Elements, 7th Generation, Tru Earth).
Timeline of initial outbreaks of SCTLD in countries across the Caribbean:
2014: Florida (USA)
2017: Jamaica
2018: Mexico, Sint Maarten
2019: US Virgin Islands, Dominican Republic, Turks and Caicos, Saint-Martin, Belize, Sint Eustatius, The Bahamas, Puerto Rico
2020: British Virgin Islands, Guadeloupe, Cayman Islands, St. Lucia, Honduras, Martinique
2021: Saint Barthélemy, Dominica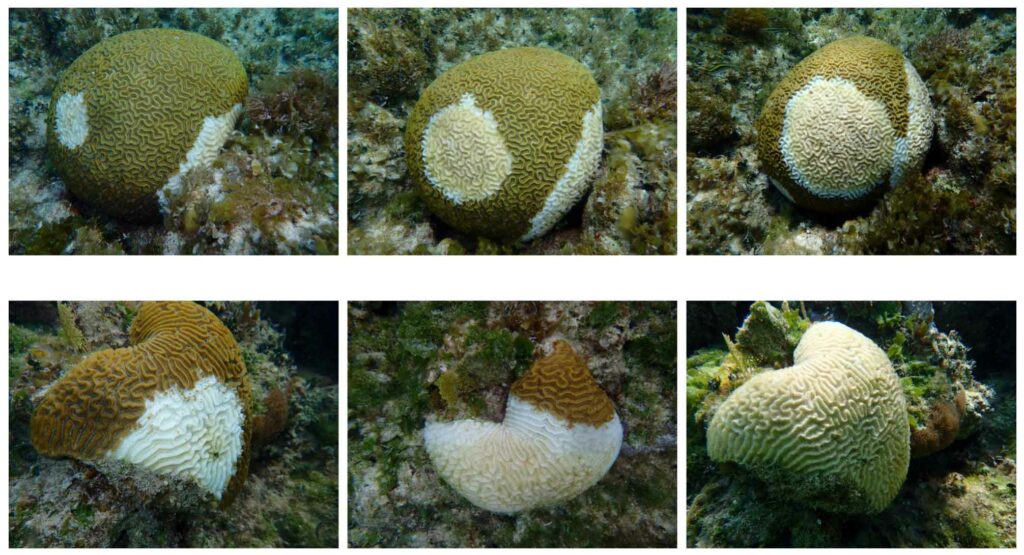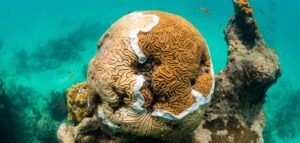 Picture this: a vibrant underwater world where countless colorful fish dart among the coral, forming an intricate web of life that captivates the eye and
Read More »