The long-term survival of the staghorn coral Acropora cervicornis is threatened unless successful active reef restoration is applied. As part of restoration efforts, the species has been successfully reared in many coral nurseries in different locations in The Bahamas & Caribbean by Reef Rescue Network partners. Knowing that increasing genetic diversity within populations is one of the key factors to ensure the persistence of the species. It was therefore necessary for the Shedd Aquarium and Perry Institute for Marine Science to collaborate.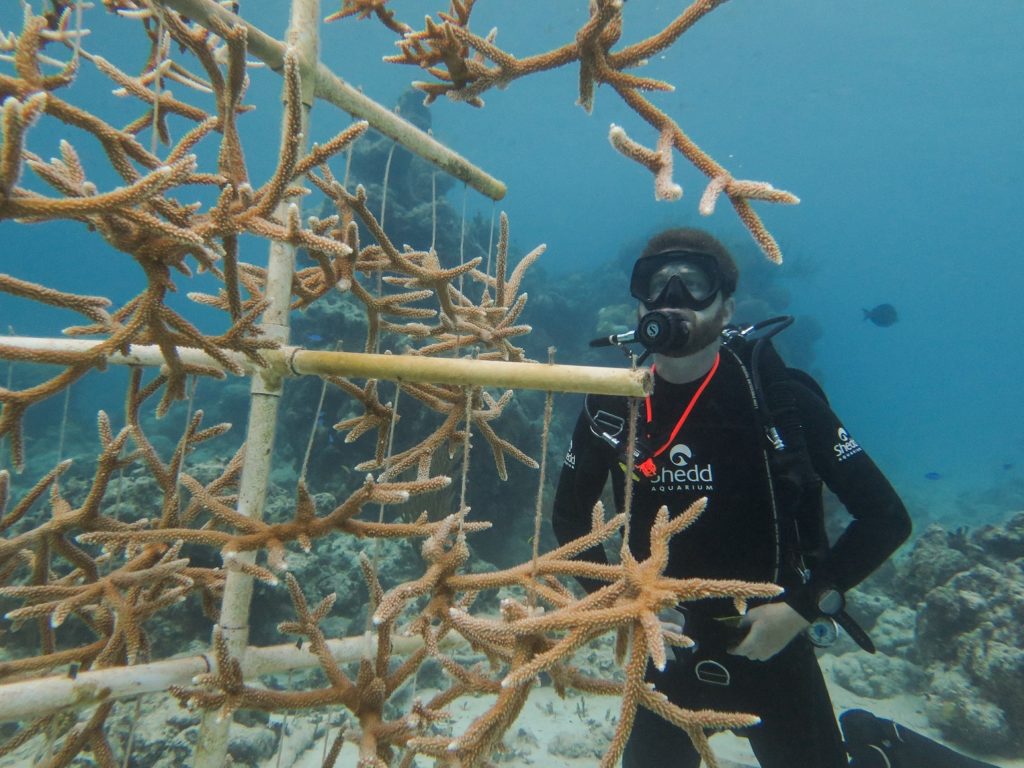 During a 15-day expedition aboard Shedd Aquarium's R/V Coral Reef II, a team of scientists was focused on two goals.
The first goal, led by Dr. Andrew Baker, consisted of sampling more than 1.800 corals in the Bahamas, specifically around Lee Stocking Island in the Exumas. This was done to replicate samples he originally took in 1995 to investigate how coral and symbiont diversity has shifted over several decades of climate stress.
The second goal, led by Dr. Ross Cunning (Shedd Aquarium), was to move Staghorn Coral fragments between nurseries throughout the islands of the Bahamas (Bimini, Nassau, Eleuthera, Cat Island and the Exumas). In each location, fragments from the nurseries and from wild colonies were collected and new coral tree nurseries were deployed with different genotypes from different places, hoping to increase genetic diversity in each site.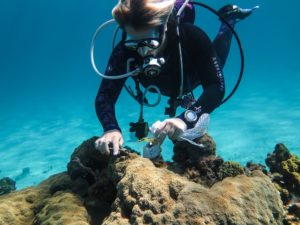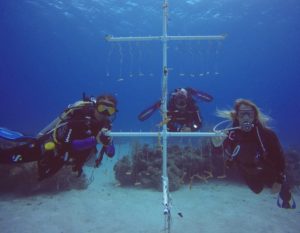 The team aboard the research vessel R/V Coral Reef II Included Crew Captain Zoltan Bobick, Tom Abend and John Harrelson, as well as researchers from:
Shedd Aquarium (Dr. Ross Cunning, Dr. Steve Kessel, Dr. Andrew Kough, Amanda Weiler and Brendan Wylie),
Cape Eleuthera Institute/Perry Institute for Marine Science (Dr. Valeria Pizarro and Natalia Hurtado),
Reef Rescue Network/Perry Institute for Marine Science (Hayley-Jo Carr),
University of Miami's Rosenstiel School of Marine & Atmospheric Science (Dr. Andrew Baker, Olivia Williamson, Rich Karp and Kelsey Johnson-Sapp),
University of South Florida (Dr. John Parkinson),
Hawai'i Institute of Marine Biology – HIMB (Shayle Matsuda)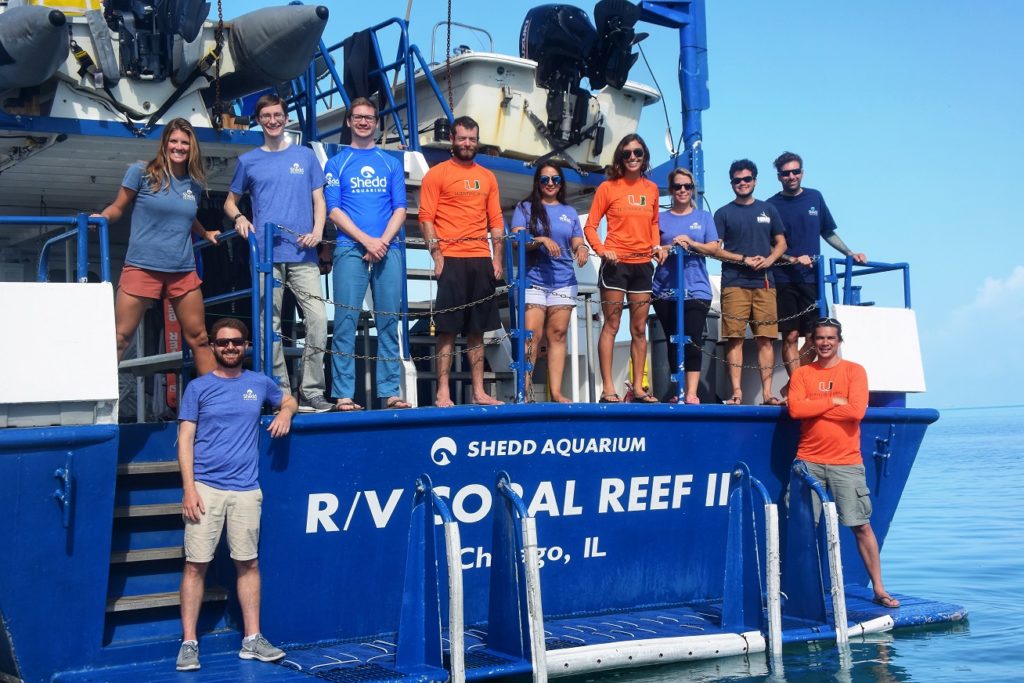 The collected Staghorn fragments were labeled by genotype and kept in "live wells" (seawater tanks aboard the ship) while travelling between locations. 570 staghorn fragments from 19 genotypes were placed in 12 new coral tree nurseries that were installed during the expedition. Two were installed in Nassau, Bimini and Cat Island (respectively) and six in Eleuthera.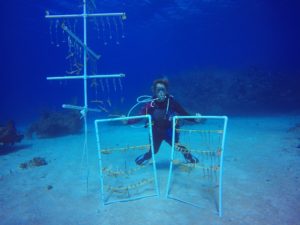 Staff from the Cape Eleuthera Institute and Perry Institute of Marine Science will be responsible for the maintenance and monitoring of the new coral tree nurseries. The new nurseries will be located at Tunnel Rock as part of the Reef Rescue Network and the Bahamas Coral Innovation Hub.