Our coral reefs are disappearing. About 50 percent of the world's coral reefs have already been lost or severely damaged. Coral reefs are some of the most biologically rich and economically valuable ecosystems on Earth. However, coral reefs and the magnificent creatures that call them home are in danger of disappearing if actions are not taken to protect them. Earlier this month, I continued to do my part in restoring our reefs.
From February 4th to 6th, 2020, I travelled to Canaries, St. Lucia to facilitate coral outplanting and maintenance under our partnership with The Canaries Community Improvement Foundation (CCIF). The goal of the CCIF is to boost the small fishing village of Canaries to make its environment more resilient to the impacts of climate change and uplift the economy. Eastern Caribbean Diving provided the vessel, staff and necessary diving equipment.
During my time in St. Lucia, I trained three new PADI Reef Rescue Divers, and two new PADI Reef Rescue Dive Instructors. I also oversaw coral outplanting at two sites using a two-part marine epoxy. The corals should now self-attach to the reef in the months to come and help bolster existing colonies and provide important reef habitat.
It was decided to use two locations in order to test longevity for future outplanting. We also wanted to ensure that both a new and original location for outplanting were used. While it is important to rejuvenate areas that have been stressed, it is equally important to maintain areas where corals were originally sourced from.
We successfully outplanted 111 fragments of staghorn coral (Acropora cervicornis) to the reef at Anse Jambette and 100 fragments of Staghorn coral at Turtle Reef.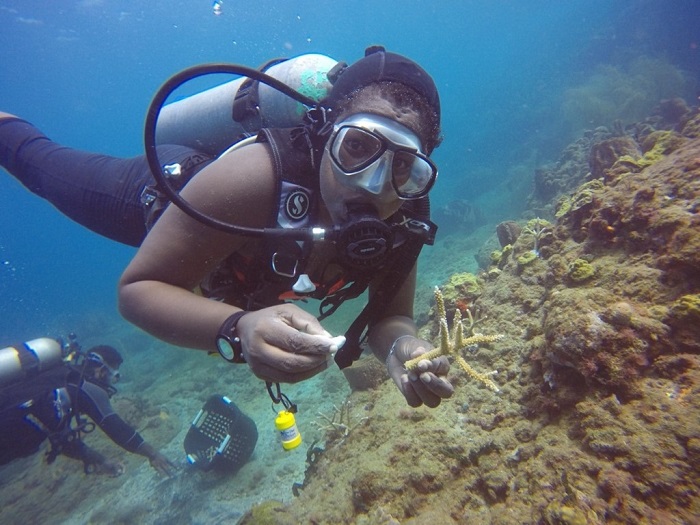 The CCIF Coral Nursery at Anse Jambette consists of three nursery trees growing 150 fragments of staghorn coral, local divers maintain the nursery monthly;
Cleaning PVC and monofilament lines of silt, algae and encrusting invertebrates;
Inspecting the structural integrity of the nursery including anchoring, lines, floats and PVC frame;
Examining the corals for signs of disease, bleaching, predation; and
Monitoring growth of corals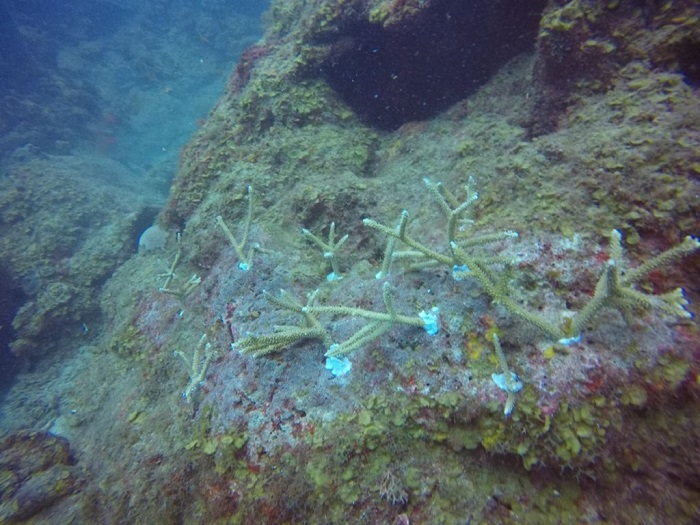 The Reef Rescue Network coordinates coral nursery establishment, maintenance, management, outplanting and monitoring with its partners. Specifically, we assist with training local partners, developing and implementing criteria for restoration, nursery site selection, harvesting coral from source populations, growing corals in nurseries, outplanting corals to reefs and monitoring the success of restoration at multiple scales from coral colony to reef ecosystem.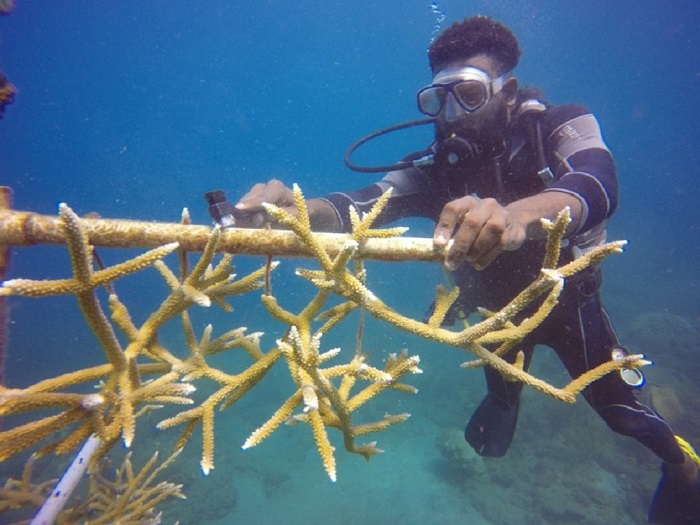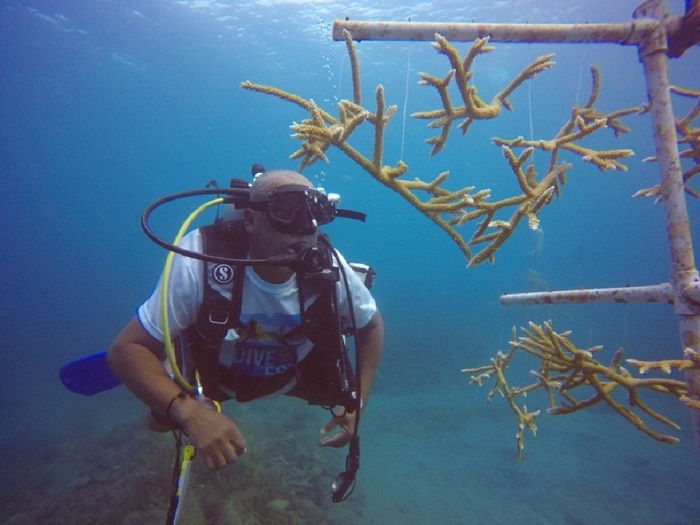 In Canaries, St. Lucia we are committed to working with the CCIF in assisting this local community to help protect and restore their marine environment and help local people become involved and receive training to help them become more employable. Our future partnership plans include helping to train some local divers to PADI Divemaster level.
Eastern Caribbean Divers were of huge assistance to the success of this trip and we are happy to have certified Donovan Brown and Eget Martyr as PADI Reef Rescue Instructors so they may now offer this course to visiting divers who can become involved with maintaining the CCIF Coral Nursery during their vacation. Donovan & Eget can also train more local divers to become involved in this exciting project. Visit www.easterncaribbeandivingstlucia.com to book your course with them.
A huge thank you to the Canaries Community Improvement Foundation for organizing this trip. Thanks to all the divers for their hard work underwater and congrats to new Reef Rescue Divers Kimmo Lansiquot, Glen Moncherry and Jamelyn Ebelacker whose passion to help the coral reefs around St. Lucia stands as an example to us all to play our part in protecting our ocean.
If you appreciate our ongoing work to save our reefs, support the Reef Rescue Network today.