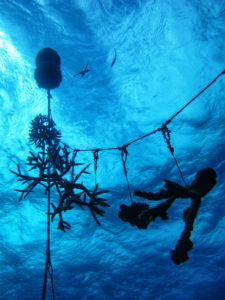 On October 22nd and October 23rd, 2018, The Perry Institute for Marine Science Reef Rescue Network and staff from Forfar Field Station on Andros braved the high seas of the tongue of the ocean to complete the outplant of Acropora fragments back to the local reef.
Despite the far from optimal weather conditions, the crew ventured out beyond the reef crest of the Andros fringing-barrier reef to the coral propagation site. There, the divers, armed with lopper's and milk crates, descended to the line nursery. While half the divers were trimming fragments of Staghorn coral (Acropora cervicornis) the other half was roaming around underneath them catching the fragments with the crates. Divers then returned to the surface to drop off the full crates to the surface crew, who counted and carefully moved each fragment into a cooler full of sea water. The team then moved to the chosen outplanting site, Strings Quartet, on the back side of the reef. There, the divers went back down and attached the fragments using marine epoxy onto different rocks within the reef. The weather took a turn to the worst, with heavier winds and rain, preventing the team to get back onto the reef and consequently forcing them to head back to the station to try again the next morning, with the hope of better weather conditions.
The following day the team was met with a similar forecast, which once again didn't stop both divers and surface crew. This time they readjusted their strategy: they outplanted 50 fragments of both Staghorn (Acropora cervicornis) and Fused Staghorn Coral (Acropora prolifera) directly to the reef adjacent to the nursery to minimize stress factors for the coral. After a well-deserved lunchbreak on the nearby deserted and paradisiac Pigeon Cay, the team headed back out for two more dives. They collected 39 more fragments of both coral types and outplanted them to another site along the reef, A flats.

Overall these 2 intense days of fieldwork resulted in the outplant of 126 Acropora fragments to the local reefs, with the hope that they will grow strong and healthy. In the meantime, Forfar staff will be busy in the next upcoming weeks, trimming the remaining fragments of Elkhorn coral (Acropora palmata) from the nursery and outplanting them to Strings Quartet. It was a great two days of helping the Andros coral reef with amazing team work from both parties. Forfar staff loved getting out on the water, learning and gaining experience in coral reef restoration techniques. We look forward to collaborating again with Reef Rescue Network Coordinator, Hayley-Jo Carr, in the following year for the next outplanting trip.