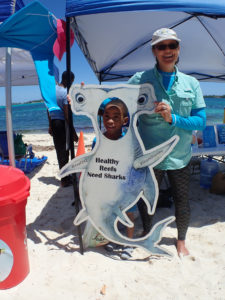 On Monday, April 22nd, BREEF celebrated Earth Day by hosting a day fun filled day of activities, including snorkeling, an educational Easter "egg" Hunt, a beach clean-up and a live conch demonstration. Over 40 snorkelers participated of all ages and 10 pounds of garbage collected on Saunders Beach.
Plastics were sorted and given to Vanessa Haley-Benjamin, Chief Scientist at Baha Mar for a project she is conducting. Aluminum cans were given to Cans4Kids242 in support their mission.
Special thank you to all who attended and participated in our BREEF Earth Day Snorkel! Also, a huge thank you to our sponsors and partners Cans4Kids242, ZNS News.com (The Official Page), Baha Mar, and Ministry of Environment and Housing. #earthday2019 Check out photos of all the fun below!
In addition, we extend our gratitude to all our partners and volunteers who came out to support our mission. We appreciate all of you!