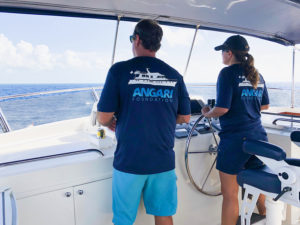 Last winter, The Perry Institute for Marine Science teamed up with Bahamas National Trust, San Salvador Living Jewels Foundation and the ANGARI Foundationto conduct Atlantic and Gulf Rapid Reef Assessment (AGRRA) Surveys for South Abaco and East Grand Bahama.
Surveys were conducted on board the R/V ANGARI, the research vessel of the ANGARI Foundation. The ship was captained by the President of the ANGARI Foundation herself, Angela Rosenberg. Angela and her sister Kari founded the ANGARI foundation in 2016 with the goal of uniting scientists and the general public to create dialogue and a sense of trust between the two groups. Their research vessel, the R/V ANGARI, was designed specifically for this mission through providing an exceptional research and education platform on board
to scientists, educators and filmmakers at minimal cost.
"We're pleased to continue to support the mission of the Perry Institute, particularly in their collaborative programs on the health of Bahamas reefs. Their goals of conducting research that can engage and educate the public to improve understanding and stewardship is well-aligned with our objectives at ANGARI Foundation, and we look forward to continuing to grow our relationship." – Angela Rosenburg, President of the ANGARI Foundation
Scientists on board included the Executive Director of Perry Institute for Marine Science (PIMS), Dr. Craig Dahlgren, Agnessa Lundy, Marine Science Officer at The Bahamas National Trust and post-grad student at Manchester Metropolitan University, Lily Haines, Research Associate at PIMS and Cape Eleuthera Institute, Alannah Vellacott, Research Assistant at PIMS, Sandy Voegeli, Scientist of San Salvador Living Jewels Foundation and Liv Williamson, PhD Student at University of Miami's Rosenstiel School of Marine and Atmospheric Science (RSMAS).
Though the team had a very small window of safe weather conditions,
Angela and Kevin Davidson, R/V ANGARI Relief Captain, Engineer & Mate (and amazing cook!), were very accommodating to the sometimes unpredictable schedule of conducting AGRRA surveys. Nearing the end of the 6 day trip, the winds were too strong for the team to safely cross over and dive the south eastern tip of Abaco. However, thanks to the technology available on the R/V ANGARI, Dr. Dahlgren was able to plot an alternate plan within the trip's objectives, to leave Abaco and to begin the surveys for East Grand Bahama. The team about-faced and sailed to East Grand Bahama with the wind at their back, and dove exciting, new survey sites that have never been explored before.
"Assessments of reefs around Abaco and Grand Bahama aboard the R/V ANGARI are contributing to our overall understanding of coral reef health around The Bahamas. Data collected from recently marine protected areas such as the Lucaya National Park, East Grand Bahama, and Cross Harbour Abaco will be used to assess how coral reefs and species that live on reefs are doing in those areas compared to unprotected reefs. Because the Perry Institute and its partners in the Reef Rescue Network are working to restore corals to several sites surveyed, we can also assess how these efforts are helping coral populations to recover, building healthier coral reef ecosystems" – Dr. Craig Dahlgren, Executive Director of Perry Institute for Marine Science.
This spring and summer, PIMS, the R/V ANGARI and partnering scientists will return The Abacos to survey Central and North Abaco.
Thank you to the Devereaux Ocean Foundation, Atlantis Blue Project Foundation and Disney Conservation Fund for major funding to support the understanding and protection of coral reefs. Also, thank you to the ANGARI Foundation, Bahamas National Trust and San Salvador Living Jewels Foundation for your commitment to this series of AGRRA surveys.